Show your

🌎

a little 💚 today and reduce your plastic waste!
Why? Glad you asked.
CORONAVIRUS UPDATE:
We are open for in-store shopping!
Life Unplastic staff will be doing all of the dispensing, but feel free to bring your own containers.
Please wear a face covering at all times while in the store and respect social distancing guidelines.
Thank you for you continued support and let us know if you have any questions.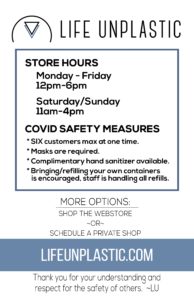 ---
PICKUP & IN-STORE HOURS:
MONDAY – FRIDAY 12PM-6pm
SATURDAY/SUNDAY 11AM-4pm
For online orders: We are still carefully packing your orders. You can expect an email notification when your order is ready for pickup. When you arrive, we will bring it out to our pickup table right outside our door (just call us when you get here.. 352.225.3116).
---
How to find us:
We are located in The Shoppes at Thornebrook, on the outside perimeter facing 43rd St, behind Arby's.
2441 NW 43rd St.
Ste 24B-1
Gainesville, FL 32606
---
---
I'll just come right out and say it: Food waste has been and continues to be one of my biggest challenges in the journey towards a low to zero waste lifestyle. I do really well one week and the next I'm throwing out half of my fridge.. not to mention my neglected compost has turned …
Continue reading "Sustainable Gainesville: Food Waste and Farms Pt 1"
Browse more blog posts…
---
Based on 28 reviews