Show your

🌎

a little 💚 today!

In a world full of endless packaging, find yourself a low-waste place. Life Unplastic is a Sustainable Lifestyle Store with solutions and alternatives that will empower you to break free from plastic and excess packaging.
---
web store PICKUP & IN-STORE shopping HOURS:
MONDAY – FRIDAY 12PM-6pm
SATURDAY & SUNDAY 11AM-4pm
---
How does it all work?
It's an evolving process, but basically we facilitate waste reduction by refilling, reusing, and rethinking modern day consumption habits.
BULK/REFILL BAR:
Many people feel uncomfortable using bulk scoop bins in conventional grocery stores because of the question of sanitation. As a result, they avoid bulk shopping altogether.
At Life Unplastic, our staff (your "Bulktenders") will do all of the refilling behind the "bar", where all bulk goods are kept completely separated from other patrons. This should ease your mind as it also greatly reduces the chance of spreading bacteria and germs.
---
Here's what we feel is the easiest way to participate in our bulk/refill program, in two easy steps.
STEP 1: Make a List.


It's easier to stay focused and avoid forgetting something or buying products you don't need.
Reminder: There are no labels to look at with our bulk options in-store because of how we have things laid out. That doesn't mean they don't exist – everything is detailed on our web store. You may choose to head there first to get an idea of the full bulk/refill availability, ingredients lists, instructions, etc.
STEP 2: Drop Off List & Designated Containers.


We can and will refill just about any container, bag, or jar you want to bring to refill.
That's it! Once we have your order and containers, we will get busy refilling. 
Feel free to shop around the store, walk around Thornebrook, run other errands, or go grab a bite to eat. We'll have everything ready to go by the time you get back!
Tips and Tricks:
Containers can be glass, plastic, or fabric. We are genuinely not picky and just excited you are refilling!
(That being said, wider mouthed containers are a smidge easier with our scoops.) 
**Still product inside your shampoo bottle? It's cool!
We'll "tare" out the weight of the jar and any product still inside.
We only charge you for the product we dispense.
**Uh oh! You forgot your containers. No worries!
We have a stockpile of community donated "boomerang" jars that we clean and sanitize in the store. We would be happy to take them back when you are done with them. We can also put dry goods into paper bags if that is your preference.
**Not sure what fits in your jar? Don't sweat it!
Part of this process is trial and error. We can fill a jar all the way, halfway, up to a certain line – whatever you prefer. We'll dispense 12 ounces or 120 ounces – or you can opt to try one single ounce.


There is no right or wrong answer.
---
You may be asking yourself… why is this important?
Simply put – Our collective plastic waste is not biodegradable and it must go… somewhere. 
We are trashing  neighborhoods, communities, and coastlines all over the world in the name of convenience and "normalcy" and because the oil and petrochemical companies who want us to buy their plastic have been able to convince us (for decades) that it is OUR problem to mitigate. 9% of plastics have truly ever been recycled. That's not normal!
I believe in options, supporting small businesses and eco-friendly innovation, and that when we know better, we do better. 
---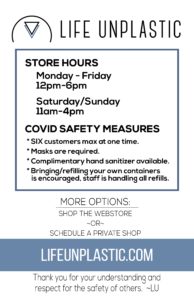 ---
For online orders: We are still carefully packing your orders. You can expect an email notification when your order is ready for pickup. If you prefer contactless pickup please call when you arrive and we will bring your order out to our pickup table right outside the door. 352.225.3116
---
How to contact us:
Let us know if you have any questions, what we're doing right, and even what we could improve. We want to make plastic waste reduction as convenient, accessible, and affordable as possible so you feel comfortable and enthusiastic about continuing your waste free journey!
How to find us:
We are located in The Shoppes at Thornebrook, on the outside perimeter facing 43rd St, behind Arby's.
2441 NW 43rd St.
Ste 24B-1
Gainesville, FL 32606
---
---
I'll just come right out and say it: Food waste has been and continues to be one of my biggest challenges in the journey towards a low to zero waste lifestyle. I do really well one week and the next I'm throwing out half of my fridge.. not to mention my neglected compost has turned …
Continue reading "Sustainable Gainesville: Food Waste and Farms Pt 1"
Browse more blog posts…
---
Based on 28 reviews