If you Google "Meatless Monday Recipe" you will find no shortage of options — from Pumpkin Roulade with Quinoa Stuffing to Crunchy-Topped Lentil Gratin, the internet is exploding with insta-worthy food made by stay-at-home food bloggers and influencers. 
And it's an amazing resource for anyone who wants to bask in the blissful ecstasy of their dinner after spending an entire Sunday learning five new cooking techniques. 
But what about for the rest of us?  We don't have a ton of time to cook every night (or frankly, don't want to)… not to mention the clean up afterward. 
If you're like me, you're just an average person trying to make your life a little more sustainable. Cutting out some meat consumption is a highly effective way to do that, and #MeatlessMonday is a fun way to hold yourself accountable. 
So here are 22 meatless Monday meal ideas that will delight your taste buds, are easy to execute, and need minimal clean up! 
Two things to keep in mind: 
If you're looking to make an eco-friendly impact, you don't want to replace all your meat with cheese and dairy — these products are also large resource suckers like beef. I have included some as options here because it can be tough to go full vegan, but I did try to lean towards the plant-based alternatives. 

Living a busy life and staying sustainable is tough. Many of the most convenient options (take-out, premade sauces, pre-chopped fruit and veggies) come in unnecessary single-use packaging.
Just remember, it's all about balance and finding what works best for you and yours.
---
BREAKFAST
Meatless Breakfasts to Grab On-The-Go
We're talking real world here. And if you're anything like me, you might get a nice sit-down breakfast once a week, but 9 times out of 10 it's time to get out the door and you really don't want to think about it. 
Quick and Easy On-The-Go Breakfasts
The trick here is to think simple, with a flair. Our taste palate loves variety, and turns out our brains do too. Don't forget to eat the rainbow! They've done studies on this — Food that has more bright colors actually tastes better to participants, yet blindfolded tasters can't tell the difference. 
Toast

I know, I know — but do you switch up your bread on a regular basis? Try different multigrains? Here some ideas for a bit of flair: 

Cinnamon toast with cream cheese and raisins or craisins.

Multigrain toast with Everything Bagel Seasoning (you can actually just buy this seasoning now – I personally LOVE IT).

Peanut butter toast with berries and/or bananas on top.

Sourdough toast with pesto and red bell pepper slices.

Multigrain toast with cream cheese, cucumbers, and dill.

Butternut Squash "Toast"

— yup you heard that right. Give it a try!

Bell Pepper Halves with Cream Cheese

Hard-boiled Eggs

'Clear the Fridge' Fruit Smoothies

(example: I recently diced and froze a single yellow squash I was trying to save from the compost and have been adding it little by little to my morning smoothies.. I can't taste it, but am loving the extra vitamins!) 

You can also add any leftover leafy green, avocado, citrus, yogurt, berries – just chuck it in there and hit blend.

Apple or Banana with Nut Butter
2) Make It Once, Eat All Week
If you do have an hour or two on a weekend or weeknight and want to invest a little time toward your breakfast for the rest of the week, these are great recipes that are meatless and save nicely: 
Homemade granola bars (grab your

oats from the refillery

!)

Peanut butter oat balls

Quiche

A quiche can be really quick to make if you buy a premade crust, but of course that usually involves more packaging. If you make your own crust do yourself a favor and make extra, then freeze what you don't need. Also consider just making an "egg pie," basically a crustless quiche. 

Quiches are a wonderful way to use up any leftover veggies or cheese from your week. Just saute in a pan and be sure to drain off excess liquid before you add it to the eggs. 
---
LUNCH
Very Easy Veggie Lunch Ideas 
Whether you're a night-before prepper or a morning-of scrambler, lunch can't be complicated either. It's way too easy to snooze one more time and then grab lunch while you're out. 
You know that making food at home is more sustainable, and if you're looking to go meatless, your local lunch options might be limited. So here are a few easy veggie lunch ideas so you can get to work on time and stick to your sustainable goals: 
The classic PB&J — plus a few twists! Try adding:

Pomegranate seeds

Coconut flakes

Dried apricots

Apple chips

Salads 

Boring I know, but they don't have to be! It definitely helps if you have your veggies pre-chopped to save time throwing it together in the morning. 

Also try mixing up some dry goods like

roasted pumpkin seeds

and dried fruits so you have an easy grab-n-go salad topper that satisfies. 

Make sure to add a protein to help fill you up.

Chickpeas

are a great option! 

Hummus and veggie wraps

This is one of my favorites because it's so easy and yet delicious. 

Try pesto instead of hummus for a twist.

Some of my favorite veggies: cucumber, carrot, bell pepper, broccoli, greens, sprouts.
If You Have a Little More Time
Again, if you do have a little more time you can make some delicious vegetarian meals with only slightly more effort than that 10-minutes-before-you're-late-to-work allows. These are all great to prep the night before, then throw together for lunch during the week.
Pasta salads

Fruit, veggie, and cheese slices — it's like charcuterie but for lunch 🙂
I am also always thinking about what little bits of leftovers I can clear out of the fridge – the combos can be as varied as your imagination! 
---
DINNER
Meatless Monday Dinners That Are Actually Feasible on a Weeknight
And finally, Meatless Monday would not be complete without a family-friendly vegetarian meal that you can whip up in 30 minutes or less. Sound impossible? It's not. Here are some of my faves: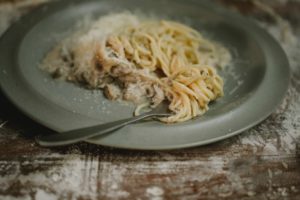 Spaghetti squash

with butter and sauteed veggies

Stir fry

— this is one of the easiest meals you can make if you find a sauce you really like. Just fry up some veggies and throw it over

rice

or

noodles

. 

Curry

— again, this can be a bit more complicated if you make it from scratch. And though that's more eco-friendly (and healthier), if you're looking for a weeknight option I recommend finding a curry paste you like. It'll become one of the easiest meals in your arsenal. 

Cauliflower fried rice

— this is a great shortcut to fried rice, and so much healthier. No need to wait for the rice to cook!

That said, if you have leftover rice, regular fried rice is another easy vegetarian option. 

Black bean burritos,

tofu tacos

, or

chickpea tacos

Veggie spring rolls with peanut sauce

— a really fun way to eat more vegetables. It's like a salad only ten times better. Plus any leftover veggies after rolling are already cut up and great to throw on salads for lunch the next day. 

Vegetarian chili

— okay it takes a while to cook, but the actual prep time is low so I included it. 

Baked zucchini boats

— bet your kids will actually eat this zucchini! 

Portobello "burgers" — just throw some

olive oil

and salt+pepper on full size portobello caps and toss them on the grill. They're done in no-time and you can dress them up just like a regular burger. 

Pasta

Pasta gets a bad rap, but for a weeknight dinner, it's honestly amazing what you can whip together. It's also an effective way to reduce food waste because pasta is so versatile with ingredients. 

If you have a whole bag of leafy greens like spinach or kale you forgot to eat (it's okay, it happens!) try throwing the greens in a colander and "blanching" them. When the pasta is done cooking, you just pour the boiling water and pasta over top of the greens and let it drain. Then toss it all in some marinara sauce and you're good to go!




Or try some of these other pasta variations: 

Stuffed baked potatoes with a side salad 

Don't be afraid to pack in those veggies. Some ideas: 

Roasted veggies (my go-to is broccoli and mushrooms)

Spinach and cheese

Butter and sour cream

Peppers and onions with plant-based sausage

Easy soups from Life Unplastic
Are You Ready to Try a New Meatless Monday Recipe?
I hope this has given you some very realistic ideas to try for your next Meatless Monday. If you've taken up the challenge, I want to say thank you. You're doing it! Keep going, trying new recipes, and spreading the word. 
Double the effectiveness of your Meatless Monday by getting your groceries plastic-free at the refillery! 
The more we can all work together to be just a little more sustainable, the better the world will be. Don't forget — if you try one of these Meatless Monday recipes tag us @unplasticgnv with #MeatlessMonday!