'Tis the Season for Another Eco-Chat
I don't know much about the infamous White Christmas, living in North Central Florida most of my life, but these days I'm dreaming of something a little more… green. 
Y'all loved the Halloween Howliday Guide so I thought we'd bring it back for a chat about how to have a greener giving season. Considering its reputation for being a consumer-centric eco-disaster, it's surprisingly easy to be more sustainable during the holidays. I used to really worry about gifting and receiving gifts, but once you establish some ground rules, with yourself as well as your friends and family, you'll see how fun it is to be in full holiday-swing, without all the pollution and waste.  
Reusing what you already have is always the most eco-friendly option and the most sustainable gift is the one you don't buy, HOWEVER, a Zero Waste Lifestyle does not have to be restricting and giftless. We don't have to be a bunch of Scrooges. We just need to embrace consumables, natural materials, and edit everything that doesn't meet our expectations. 
I'll break it down a bit so you can reduce waste in all areas of the holidays. 
---
Environmentally-Friendly Holiday Decorations
You've probably heard of popcorn garland and pinecone ornaments, but with a little creativity you can create some beautiful holiday decorations out of natural materials.
The first thing you'll want to do is head out and collect materials. If you live in an area with woods this can be as simple as going for a walk! Keep an eye out for: 
Pine boughs/branches

Pinecones

Dry grass stalks (especially ones with little seed tufts on the ends) or cattails 

Winter berries

Seedpods 

Twigs and branches of various sizes

Nuts

Flowers for drying
Then you can supplement those materials with items you'll find at local farms, supermarkets, on your Buy Nothing Group, at thrift or crafting stores. Consider: 
Oranges, cranberries, pomegranates, or dried fruit

Nuts in the shell

Cinnamon sticks

Dried herbs or flowers

Feathers

Natural cotton

Burlap, muslin fabric, jute twice, or raffia ribbon
If you plan on going to a roadside stand or tree farm ask if you can take home some of the leftover boughs – people often leave branches at the base of the tree if it's a bit too tall or just a tad unruly at the bottom. Most places won't charge you for this and they're highly versatile in your holiday decor. 
Wreaths
Natural wreaths have such a classic holiday feel to them, plus the smell of pine as you come in the door is sure to lift your spirits. 
While you can make them completely compostable and from scratch with some greener branches, you can also purchase a metal frame and reuse it year after year. Grab some twine and simply tie the sticks and boughs around the frame, then add your accent pieces. 
Try cinnamon sticks or dried oranges for some more fragrance, or dried flowers and berries for extra color. Feathers, pinecones, seed pods and dried grasses add various textures and colors as well. 
I recently saw this wonderfully whimsical wreath, made from repurposed toilet paper rolls, of all things. But everything Emily Ehlers does is amazing, go follow her insta!
Mantles, railings, and entryways
This is where those spare boughs come in handy. Laying them across a mantle or bookshelf, wrapping along a railing, or framing a doorway with pine boughs brings the joy of Christmas throughout your house – so it's not just in the room with your tree. 
Try laying out bowls of nuts in the shell, pinecones, pomegranates and red and green apples to get in the natural holiday spirit. 
Wine corks also make fun decorations and can be crafted into everything from Christmas trees and snowmen to these cute little reindeer figurines. 
The Tree
As far as decorating a tree, consider some of those natural decorations we've already talked about. Make garland with cranberries, popcorn, or wine corks. Try ornaments with pinecones, dried orange slices, and bundles of cinnamon sticks. 
You can also find recipes online for sugar cookies and gingerbread that can be made into ornaments, which is a great activity for both adults and kids. 
If it's time to buy a new strand of lights, consider LED as they are more eco-friendly. 
Sustainability showdown: Is it more eco-friendly to get a real Christmas tree or a fake?
Christmas trees come in all shapes, sizes, and materials. Overwhelmingly, there are just two normalized choices, and there is a debate in the sustainability community about which is more eco-friendly: getting a real tree or a fake? 
The arguments go something like this: Cutting down a real tree sounds bad in theory – don't we always want more trees? But it's in the interest of Christmas tree farms to replant, the growing trees absorb lots of CO2, and that land may not be suitable for much else. Plus if a tree is composted, it releases very little carbon back into the atmosphere. 
The main argument for a fake tree is that you can reuse it year after year, and it doesn't involve cutting down a new tree each time. But they are made from all sorts of synthetic materials including plastics, so the ultimate ecological cost of manufacturing and eventually disposing of a fake tree is fairly high. 
The winner? Honestly, whichever one is right for you. In the grand scheme of the holidays, whether you go with a real or fake Christmas tree is not going to make or break your carbon footprint. We need to hold corporations accountable for their emissions and target whole industries like fast fashion. Then we can worry about our Christmas trees. 
Ultimately the idea here shouldn't be that one is right or wrong, but how you go about it. If a fake tree is right for you, try to reuse it for as long as you can and try to keep it out of the landfill. If you go the route of real trees, buy local and compost it when you're done.
---
Sustainable Gifting Ideas
It is the season of giving after all! And while I think the real power of the season is in spending quality time with loved ones, there's nothing quite like the delight of a friend or family member opening a gift they love. 
There are plenty of ways to be sustainable with your gifts. So as you run through your list this year consider some of these options: 
Tree-Friendly Holiday Cards
Thoughtful Human makes beautiful cards with tree-free, plantable seed paper that grows wildflowers. It's an interactive gift that will bring joy now and again when the flowers bloom. 
Or go digital! While it may not have the same feel as receiving a card in the mail, you can now make it super personal with a video message. Plus adding GIFs and memes can make them highly entertaining and bring the holiday cheer to your loved ones. 
Zero-Waste Gift Wrapping
Save the brown paper that comes in your online purchases and use it to wrap gifts!
**Local tip: I have a TON of brown shipping paper I've been saving all year that you can grab for wrapping next time you stop by the shop!  It's a little crinkled, but I think it adds to the charm. 
Tie them up with twine or ribbon and add some snowflakes or christmas trees with a marker or stamp. These come out with a classically rustic look that people always love. 
If you want something a bit more colorful and funky (especially for the kids) consider what you have lying unused around the house: old maps, comic books, newspaper and magazines make for great wrapping paper. 
Try yarn or twine instead of ribbon, or make the wrapping part of the gift by using something like a thrifted silk scarf or cloth napkins. You can use an old brooch to pin it all together.
I have also seen various sized reusable fabric wrapping bags. You can make your own with any fabric or even get away with an old pillowcase when push comes to shove. 
And of course – if you don't already – save any gift bags, bows, or ribbons you receive this year to reuse for your gifts next year. (I actually save tissue paper too, but that's just me, lol.) 
---
Our Sustainable Gift Guide
As a conscious consumer I'm sure you've heard many of the classics: DIY candles or soaps; baked goods; candied nuts; experiences such as tickets to a show or play, art or cooking class. 
But some of us aren't that creative, or simply don't have the time to invest in DIY gifts. If you love the feeling of stuffing a stocking, or handing a heartfelt gift to a friend and watching their face as they open it – we have put together our list of favorites from Life Unplastic so you can give gifts you trust are not negatively impacting the planet. Consumable gifts and gifts made from natural materials top our lists. 
For the men: Florida-made beard balm, lava pumice stone, or a rosewood beard comb
For the femme: tassel hoop earrings, this jade facial roller, or these adorable wood animal magnets
For the kids: 100% recycled crazy crayons, this plant-based finger paint kit, or this honeycomb candle making kit
For the student: decomposition books and/or a fancy, zero waste highlighter pencil
For that on-the-go friend: a collapsible straw with keychain case or locally roasted coffee beans (by the ounce, so a great opportunity to package in a fun, thrifted jar!)
For your out of town family: these "someone in Florida loves you" ornaments or magnets
For the tricky-to-buy-for: a 30hr outdoor candle, organic seasoning blends, or a pound of local orange blossom honey 
For self care: beautiful holiday themed locally-made soaps, locally-made body butter, or this pot of gold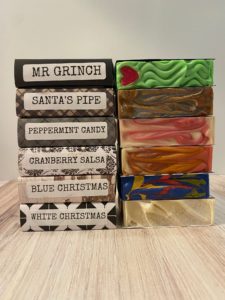 For a White Elephant/Gag party gift: people will go nuts over these wood britney or dolly face ornaments
For your best bud (pooch or kitteh): treats, treats, and more treats!
For advent calendar, festival of lights, or stocking stuffers: a vitamin-rich lip balm, these travel size shampoo bars, an exfoliating woven soap bag, or a washable/reusable bamboo spork 
For anyone: cute swedish dishcloths, a gallon-sized silicone storage (freezer) bag, or these versatile string grocery bags 
When in serious doubt, a Gift Card can still be presented in a really thoughtful way.  
Remember too, if you're ordering from us or elsewhere online, order early – experts predict the shipping delays may be even worse than last year. 
Hopefully this gets you in the holiday spirit and feeling like it's going to be a very green Hanukkah, Christmas, or whatever you are celebrating this time of year.