Greetings readers,
Earth Month is a time to celebrate our planet and take action to protect it. As we head into the last half of April, in honor of this special time, many local communities are organizing events and activities to  engage and educate the public about the importance of sustainability and environmental protection. These events not only serve as a means of raising awareness, but also provide a fun and engaging way to learn about the crucial work of environmental organizations in our communities.
Gainesville – get ready to learn, connect and have some fun!
Charles Barstow is a PhD student in Cultural Anthropology at UF. His presentation will highlight the importance of food in bicultural conservation and introduce Slow Food approaches to protecting and promoting endangered food heritage.
This is a co-presentation of the Ethnoecology Society and the Center for European Studies at the University of Florida.
---
The State of Water art show at the Cade Museum opens Thursday April 13th and runs thru April 30th. Museum hours are 10am – 4pm Thursday thru Sunday (closed Mon/Tues/Wed). A museum admission fee applies to see the exhibit – free admission will be during the Saturday, April 15th, Water State Festival at Depot Park.
We are intrinsically and deeply tied to water, especially in Florida. The waters that surround us in the landscape, the waters that flow underneath our feet in the aquifer – they nourish us, connect us, and inspire us. The works in this exhibition explore various "states" of water, from literal to figurative – whether physically transcending states from liquid, to solid, to gas; to a flowing state of a winding river; to an emotional state flowing down a cheek; surfacing on skin in fear; to a state of advancement from rising seas.
The art show is presented by Play Hard Florida and is benefiting Current Problems, Florida Springs Institute, and Keepers of the Springs.
---

The Alachua County Solid Waste & Resource Recovery Department, in collaboration with the Santa Fe College Teaching Zoo, invites residents to participate in the "Community Reuse & Recycle Day" on Saturday April, 15th 2023.
Residents are encouraged to take advantage of this free spring clean out, donation and hazardous waste recycling event.
Non-profit organizations will be onsite to receive the following items:
• clothing in wearable condition
• non-perishable food
• housewares in usable condition
• school/office/art supplies
• Household hazardous waste such as paint, chemicals, old electronics etc. for recycling or proper disposal.
---
Party for the Planet
Saturday, April 15, 9am – 3pm
Santa Fe College Teaching Zoo
This event is perfect for the whole family! The zoo welcomes you and your kids to explore and participate in fun activities such as games, crafts, training demonstrations, keeper talks, animal encounters, and more! Learn to build like a beach mouse, save a sea turtle, make a backyard habitat, and spring into action to save species. Get the full presentation schedule and exhibitor list here. 
---
Enjoy a day of water-themed science, crafts, art vendors, environmental nonprofits, government agencies, live mermaids, adventure outfitters, and entertainment.
Also, festival goers will be able to visit the Cade Museum (FREE admission) to see Play Hard Florida's State of Water Juried Art Exhibition!
Presented by Play Hard Florida, proceeds of the festival and the art show at the Cade Museum benefits two local environmental nonprofits that protect our waters: Florida Springs Institute and Current Problems.
---
April 21: Ashley Creek Clean UP – RSVP here
April 22: Sustainable Showcase & Films at Cypress & Grove – learn more here
April 23: Awards Dinner at Passions Field in Alachua – learn more here
---
6th Annual Earth Day Eco Fest
Saturday, April 22, 10am-4pm
Eco Teaching Farm
17306 NW 112th Blvd, Alachua, FL
Spend the day in nature learning new, sustainable skills. Fun for the whole family! Speakers like Alex Ojeda, a permaculture expert, will be touching on growing herbs, soil development, and much more. Learn to make things like cheese, paper, incense, infused medicinal herbal oils.
---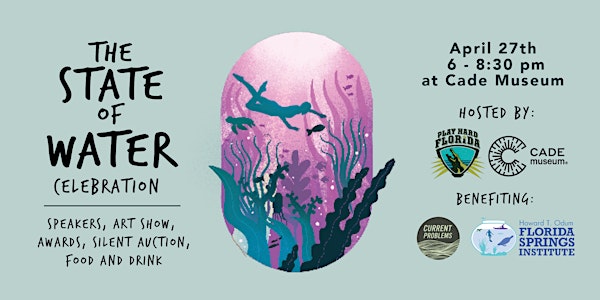 Enjoy delicious food and drinks, amazing water-inspired 2D, 3D, and video art, a moving presentation from Florida author Rick Kilby, and a water-themed silent auction!
---
The Mayor's Challenge is a friendly competition between cities across the U.S. to see who can be the most "water-wise" by pledging to conserve water. We invite all of you to join us in taking the pledge at www.mywaterpledge.com, then click on Take the Action Pledge, and enter Gainesville, FL.
Participants in the winning cities are eligible to win hundreds of prizes.
---
Help We Are Neutral raise money for their small organization  to continue Earth-giving programs, including energy upgrades for low-income families, indigenous tree plantings, invasive species removal, urban agriculture, soil regeneration, composting, landfill diversion, landfill methane capture, vehicle fuel efficiency tuneups, climate change victim relief, environmental policy advocacy, and massive amounts of environmental education. Bid on items here
---
Join Alachua County and hundreds of other cities around the world for a friendly competition to see who can make the most observations of plants and animals in their community.
Learn more at citynaturechallenge.org
---
At Life Unplastic – if you haven't heard about our Earth Month Sale – we are discounting products 20% off storewide – excluding refills – through April 30th! Get 10% off your refills when you BYO containers (bags, bins, jars – whatever you fancy!)
And finally, our April Puzzle and Board Game Swap will be April 30th. Bring a game or puzzle to swap and bring home something new – to you – while you foster a circular, buy nothing economy. FUN!
If you made it this far, thank you for reading and I hope you can participate in at least one of these wonderful Earth Month/Earth Day events. Have a great April, everyone!
— Joy